Luxstar is a system for the construction of sliding doors with an exposed frame, concealed in a stud integrated in the wall. The set includes handles, connecting profiles, muntin bars, handle and runner. All these elements make it possible to create an interesting and original design of the leaf - the final appearance is up to us. When creating doors, we can combine different fillings - panel and glass. The handles (so-called Twin profiles) have been painted with structure black or white paint (at your choice), which gives the arrangement a loft-like character. The same goes for decorative mullions that can be arranged in any pattern you like.

Our studs for retractable doors have been tested by the Building Research Institute's team of testing laboratories for the properties of coatings, stiffness, impact resistance, conformity of shape, dimensions and workmanship, and have received technical approval confirming the systems' compliance with the applicable standards.
Luxstar offers an extremely durable system for retractable sliding doors with a visible frame. The system's components can be freely configured to create an original product tailored to the user's individual needs. The system is equipped with the latest generation of sliding hardware, the SLX, which has an elastomeric link and slanted profile castors with high-quality plain bearings.

The steel structure made of galvanized steel repeatedly bent increases the rigidity of the pocket door frames.

Unrebated doors with the width from 60 up to 100 cm can be installed.

Glass: 4 mm, 6 mm Board: 10 mm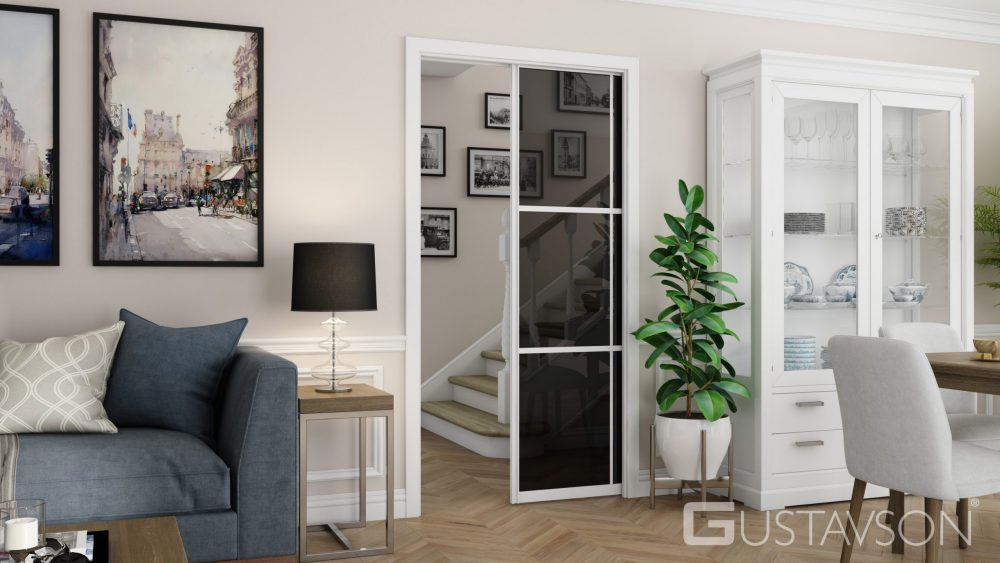 Advantages of the Luxstar system of doors hidden in wall: 
Stylised accessories painted in texture paint (black or white) – loft style.
Maximum use of space (clear opening).
Visible door frame.
Possibility of making a pocket door frame for door up to 3 m high.
Unlimited selection of door fillings.
Possibility of deinstallation of the rail without interfering with the structure of the wall.
Possibility of installing a silent self-closer to sliding doors.
Possibility of adjusting the depth of the leaf in the pocket door frame thanks to the adjustable limiter after the door has been mounted.