Accessories helping in the installation of our systems for sliding doors and complimentary fittings for doors and pocket door frames. Ideal especially for closets and bathroom doors.
Loft doors
Beautiful pine doors made with great care, and attention to quality will introduce an atmosphere of warmth and coziness to any interior. Raw pine doors can be finished by match a style of any interior, for example with the use of stain-varnish, varnish or by aging them, which will emphasize the rustic, Provencal or country style.
They match the systems: Loft and Loft Art.
Available in dimensions: 2150/1030 mm, 2150/930 mm and 2150/830 mm
Raw pine doors can be finished to match any interior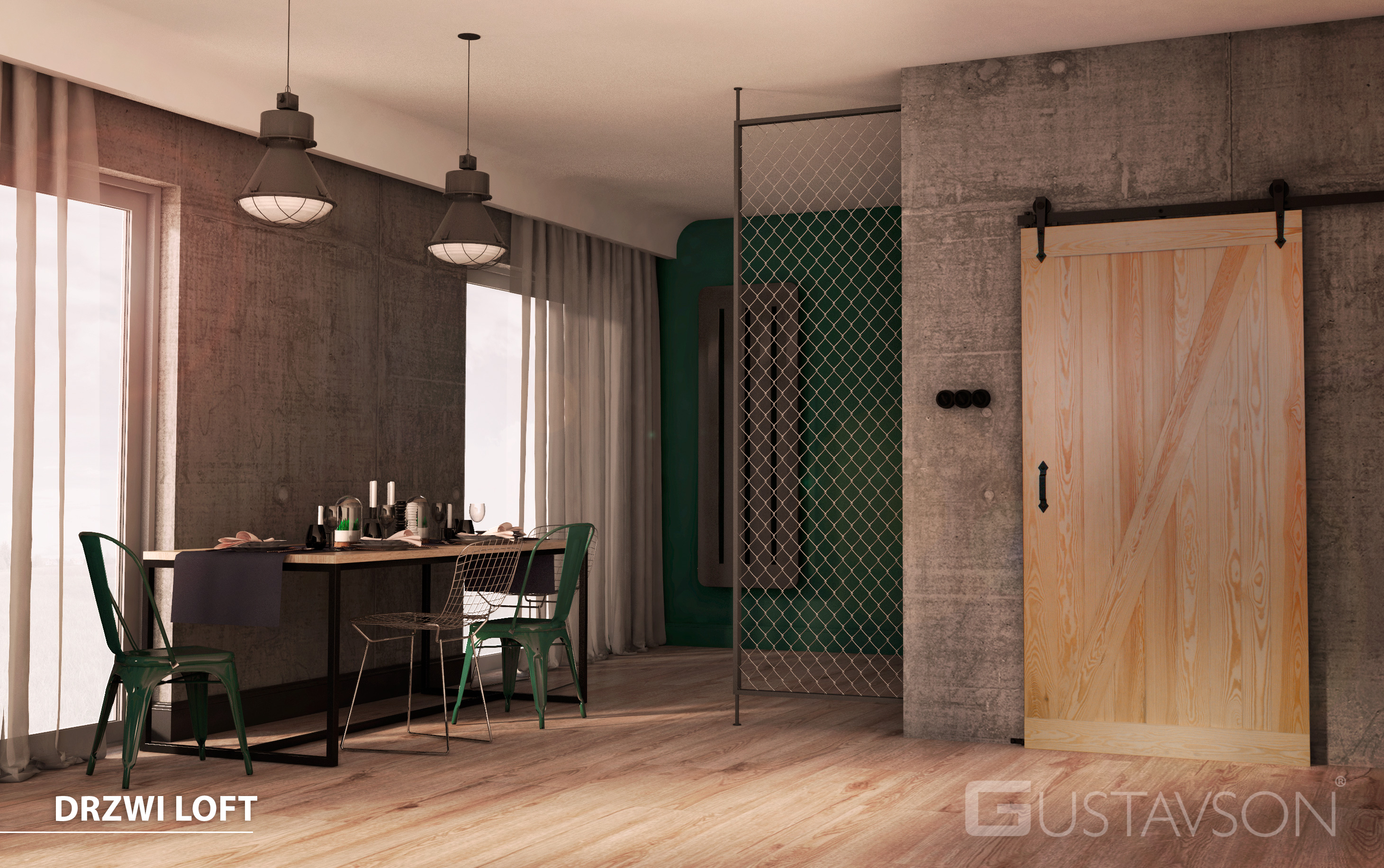 They match systems: LOFT (with and without adjustment) and Loft Art (with and without adjustment) with the length of 2 m / 2,5 m / 3 m.
They are available in following dimensions:
2150/1030 mm category No. 41228900
2150/930 mm category No. 41228800
2150/830 mm category No. 41228700
Push Handle
An innovative and modern solution designed for maximum space-saving and functionality. It is a universal door handle, dedicated to all doors with board filling.
Thickness of filling: 30 - 40 mm
Type of filling: board
Available color: white, gray, black

Characteristics of the Push handle:
• built-in lock hiding the handle;
• maximum space-saving;
• solid steel housing;
• convenient handle release button.
SLX Fitting
The SLX fitting represents a new generation of fittings for sliding door systems. Thanks to the elastomer filling we obtain noiseless door operation without the effect of vibration.
An elastomeric spring prevents vibration
Wheels with an oblique profile to reduce vibration
Lifting load capacity 100 kg

Characteristics of SLX fitting:
ensures noiseless door movement;
allows to minimize vibrations;
gives you an unparalleled culture of sliding doors;
makes the installation of the system easier;
extends the time of trouble-free use of the system
allows adjustment of the fitting +/- 7mm
Knobs and handles
Set of Twin Art handles.
Set of Loft Grot handles
Set of Loft straight handles

Flat handle
Railing handle Porta 19 mm

Decorative details
small decorative corner 45 mm
decorative corner
triple door connector

large double corner
small double corner

Mechanism for pocket door frame lifting
The height of the pocket door frame can be adjusted from 10 mm to 175 mm in the case of non-standard height of the clear opening.
the possibility of correcting the floor curvature when installing the pocket door frame.
Stark 100 pocket door frame adjustment set Stark 125 pocket door frame adjustment set.