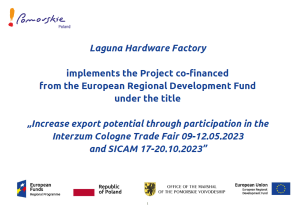 Laguna Okuć Factory S.A. participates in the industry's leading trade fair and exhibition events Interzum and SICAM as part of a grant project:
"Pomeranian Export Broker. Comprehensive system of export support in the Pomeranian Voivodeship".
Our project: Increasing export potential through participation in Interzum Cologne Trade Fair 09-12.05.2023 and SICAM 17-20.10.2023.
The aim of the project is to promote the products of the Polish brand Laguna, Gustavson and Anima Domus on international markets.
Thanks to our participation in the Interzum Fair in Germany and SICAM in Italy, we have the opportunity to present our company and the innovative solutions we can offer to our customers and partners. We have tremendous facilities in the form of our own production and qualified staff, consisting of nearly 200 employees.